"We are not saying laughter club leaders are experts in all of this, we don't say that we give you therapy or treat you. But we help you to laugh, to lighten the load. So, we do whatever is within our training, within our capacity, to help people get a bit happier."
Ms Karuppiah-Quillen says laughter, regardless of whether it is in person or online, or indeed whether it is real or fake, is contagious and an instant mood booster.
"When you see someone laughing … you don't even have to know why they're laughing, it's just so infectious," she says.
"The minute you start laughing and sustain it for a little while, so that the brain has registered something happy, something good, something joyful is happening then the whole system goes, you're happy and the whole being is animated."
Steve Ellen, a professor of psychiatry at Melbourne University, says while the scientific research is still not conclusive about the long effects of laughter, these kinds of clubs can benefit people's wellbeing and mental health.
"The research on laughter is a little bit in the soft range, but we still like it because … it really appeals to people. If you can appeal to people with something like laughter workshops, then you engage them in the whole process of wellbeing," Dr Ellen says.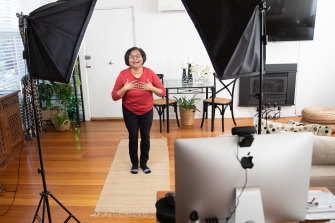 He says laughter is linked to the activation of the brain's prefrontal cortex and produces endorphins.
"There's the direct benefit that we think occurs when you laugh, so when you laugh – even if you are fake laughing – eventually you feel a little bit happier, you release endorphins, you feel a little bit more positive about life. But then there's also all of the secondary benefits of any sort of activity like this … you're socialising and you're talking to other people."
Now, as we face rising mental health concerns due to the pandemic, Dr Ellen says thinking about solutions that are outside the box is important.
"Not everyone responds to traditional approaches, and that's why it's so important when you're looking outside the box for ways to improve your own personal mental health, you have to consider all of these innovative things like laughter clubs."
Ms Karuppiah-Quillen says that while she can't wait to attend in-person club meetings again, the Zoom sessions will stay even after lockdown lifts.
"What it has done is it has brought people even from afar. People who are in the country, people who are from interstate, even they are joining in, when they hear about it. So it has given people access to not just come to a physical club. It has made it a lot easier for some people just to hop in and hop out anytime they wish," she said.
"There will always be someone coming, and that's what we are there for, for whoever needs it."