The analysis showed that through last year's June quarter $11.4 billion went to businesses that did not suffer their forecast drop in turnover compared to a year earlier. Another $15.6 billion was paid out in the September quarter. Once a business qualified for the scheme it gained JobKeeper benefits for a full 6 months.
Of the total $27 billion, $13.2 billion went to businesses whose fall in turnover was less than expected while another $13.8 billion went to businesses that enjoyed higher turnovers.
Of that $13.8 billion, at least $4.9 billion went to new businesses or those that had changed their structure since the year before, which could explain the increased turnover.
"JobKeeper payments to these businesses were important to offset the impact of COVID-19 restrictions on their operations and avoid labour shedding," it said.
These payments have prompted calls for the government to claw back JobKeeper.
But Treasury said a claw back mechanism would have "perversely" encouraged businesses to reduce activity so that they could qualify for support.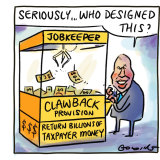 "For a 'typical' business that had the opportunity to recover, but did not expect its turnover to increase significantly, the most profitable decision for the business would have been to reduce turnover to ensure it continued to qualify for JobKeeper," it argued.
"In this example, if the business expected turnover to increase compared with a year earlier, but by less than 13 per cent, the business would have faced an incentive to reduce its turnover by 30 per cent to retain access to JobKeeper and maximise its profits."
The incentive was large.
JobKeeper, on average, provided businesses with a subsidy worth 60 per cent of their wage bill, reducing overall labour costs by 15 per cent of revenue. By September, almost a quarter of those on the scheme did not have out-of-pocket wages costs due to JobKeeper.
Loading
"The provision of the wage subsidy enabled many of these businesses to continue operating and then to pivot and grow," it said.
Small businesses with revenue below $50 million accounted for $22.5 billion or 83 per cent of the payments that went to companies that did not meet the expected falls in turnover. They also accounted for 88 per cent of the businesses that got JobKeeper while enjoying an increase in turnover.
The average businesses that did not meet the 30 per cent or 50 per cent forecast in turnover supported four people.
Treasury said JobKeeper directly affected businesses most at risk from the restrictions imposed due to the pandemic. The job separation rate at businesses receiving JobKeeper almost doubled due to pandemic restrictions but was largely unchanged for other businesses.
Half of the people employed in the arts and recreation industry and 35 per cent of those in the accommodation and food services industries were supported by JobKeeper payments.
Treasurer Josh Frydenberg said the report proved the importance and effectiveness of JobKeeper.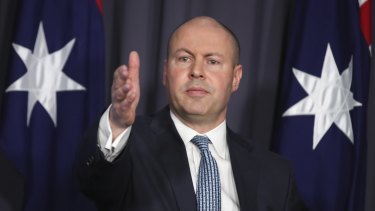 "The report demonstrates that JobKeeper was more than just a wage subsidy. It was designed to ensure the strongest possible economic recovery and avoid the scarring impacts on the labour market, which were characteristic of previous recessions," he said.
"Treasury's report on the first six months of JobKeeper clearly demonstrates that the program did what it was intended to do. It kept employers and employees connected. It saved more than 700,000 jobs and it supported Australia's world-leading economic recovery."
Loading
Labor's assistant treasury spokesman Andrew Leigh said JobKeeper had wasted billions of dollars that could have gone into other programs.
"JobKeeper was a good idea that was badly implemented by the Morrison government. They allowed billions of dollars to go to companies that didn't need support, yet neglected millions who needed help," he said.
"A program meant to help battlers ended up lining the pockets of offshore billionaires. And even now, the Morrison government is fighting to keep secret the names of big firms that got JobKeeper."
The analysis was based on about two-thirds of the businesses that received $47.6 billion of the $70.3 billion paid during the first phase of JobKeeper. Not-for-profits, businesses too small to submit a quarterly Business Activity Statement and some businesses that reported as part of a consolidated group were not included.